Chapter 17: Singapore Institute of Technology – Integrated Work Study Programme (IWSP) Model
Christina Lam and Yeo May-Fung
Christina Lam, Singapore Institute of Technology
Yeo May-Fung, Singapore Institute of Technology
Abstract
In 2015, the Singapore Institute of Technology (SIT) launched a hospitality business degree programme to accommodate the needs and demands of the hospitality industry. This is the first and only hospitality business degree programme offered by an autonomous university in Singapore. Its focus is on applied learning pedagogy, in which students learn to integrate theory and practice. This pedagogy is particularly applicable and relevant to the nature of hospitality business, which focuses on practical learning and skills. A key feature of the Singapore Institute of Technology's applied learning pedagogy is the Integrated Work Study Programme (IWSP), which is a work attachment of eight months. This case study offers a comprehensive overview of IWSP and aims to examine success factors and to identify key challenges. Recommendations are presented to address the challenges and concerns.
Keywords: Integrated Work Study Programme (IWSP), Hospitality Business Programme, Practical Learning, Industry Partners
Introduction
The hospitality industry has been growing rapidly in the past decades. In recent years, there has been a significant number of new hotel openings worldwide, from developing to developed countries, from economical to luxurious categories, and from boutique to large sizes. Countries such as Singapore have continually faced manpower and labour shortages. One of the crucial tasks for the senior management is to attract more "work-ready" graduates to join the workforce. Practical learning becomes an important component to enhance students' competency with adequate skill sets. Applied learning is primarily an approach that links the 'real world' to the concepts being taught in the classroom (VCCA, 2006). Therefore, an 8-month Integrated Work Study Programme (IWSP) is the key component of the Singapore Institute of Technology's (SIT) hospitality business programme curriculum. Applied learning manifests in higher education as one or more of the kinds of pedagogical practices, such as practical experiences, project-based learning, service-learning, and integrated work study programmes (Lim, Foo, Loh & Deng, 2019).
This chapter presents the Integrated Work Study Programme (IWSP), the practical training model of the three-year hospitality business degree programme at SIT. IWSP offers opportunity for students to undertake real work that allows them to integrate theory and practice while developing deep, specialised skills in the hospitality industry (SIT, 2020). Numerous research on hospitality curricula stated the importance of relevance of the curriculum to the industry development and demand, especially in students' skill sets.
SIT emphases an applied learning pedagogy to maintain the relevance to the hospitality industry needs that is very crucial for the stakeholders: students, faculty members and industry partners (Figure 1). How to design a programme curriculum to meet learning outcomes and to bridge the gap between the degree programme and the skill sets required by the industry (Chen, Deller, & Bianchi, 2019) is a key question. The programme emphasizes enhancing students' practical skills and developing them to become industry-ready graduates. The practical learning experience could improve students' confidence, self-esteem and problem solving skills. Workplace learning can help also students develop generic skills and learn practical skills (Downing, 2017).
Figure 1: The Stakeholders of the IWSP Model
Within the tourism industry, hospitality, specifically the hotel sector, plays a vital role in the economy. The hotel sector continues to grow aggressively (Deloitte, 2018). The industry faces a challenge of attracting and retaining labour, though with one of the biggest concerns being to recruit the right people and retain them (Lefever & Withiam, 1998). Singapore is an example of a country continually facing manpower and labour crunch issues. Labour shortages significantly impact business operations and work efficiency as well as impeding investment and organisational growth (Montgomery & Spragg, 2017). The hospitality industry faces severe labour shortage issues, especially in housekeeping, front desk and food & beverage (Montgomery & Spragg, 2017). Therefore, there is a need to develop more well-trained graduates to meet labour demand.
SIT's Integrated Work Study Programme (IWSP)
The Singapore Institute of Technology is Singapore's University of Applied Learning. Gazetted as an autonomous university in 2014, SIT is a young University with a vision to be a leader in innovative learning by integrating learning, industry and community. The essence of the applied learning pedagogy is promoting active learning in an authentic learning environment. In the context of preparing students to be industry-ready, the authentic learning environment would be industry. Hence collaboration with industry is a theme that permeates through the design of SIT's degree programmes.
The Integrated Work Study Programme (IWSP) is a key feature of SIT's applied learning pedagogy. It is a work attachment of eight to twelve months. The substantial attachment period provides an authentic learning platform for students to be engaged in real work and projects. The learning is supported by active coaching and mentoring by an SIT academic supervisor, as well as the assigned work supervisor from the company. The IWSP learning outcomes for students are as follows:
Develop career and professional skills
Facilitate integration of knowledge and practice
Develop innovation skills
Through forging close collaboration with relevant industries, SIT seeks to provide real work experience for students in their relevant field of specialisation. Students will then have the opportunity to apply their knowledge in solving real-world problems, and hone both their technical and soft skill competencies. The extended period of immersion at the workplace is akin to a probation period, and students are trained to perform work scope similar to full-time employees of similar qualifications, as well as gain a good understanding of the company's business and culture.
Students on IWSP are not placed. They are required to go through an IWSP application process that is similar to a real-world job application experience. SIT has a job portal to facilitate the IWSP application. Companies put in their IWSP job description and requirements, and these will need to be approved by the degree programme leader to ensure that the roles are relevant and meet the IWSP learning outcomes. The IWSP positions are then open to students to apply, after which companies will shortlist for interview and make offers to suitable candidates. Although the process may be more time-consuming, there are benefits to students and companies as there is mutual interest and choice. Students also make their choice with their longer-term career interest in mind.
The Hospitality Business (HB) Curriculum
SIT's Bachelor of Hospitality Business (HB) degree programme was launched in 2015 and was the first and only hospitality undergraduate programme in Singapore. The programme has two industry specialisations: Hotels and Integrated Resorts and MICE. SIT puts in intentional design to scaffold the students' learning and experience. Below are the learning outcomes of the HB IWSP:
Understand the organisation in terms of its structure and major areas of business
Describe, explain and evaluate inter-relationships between major business areas and departments of the organisation
Formulate managerial decisions within areas of business and departments to reflect application of theory in real-life business settings
Identify potential room for improvement and propose solutions
The HB curriculum structure is built on three layers: cornerstones, keystones, and capstone, and IWSP is the key feature of practical learning to enhance effective learning outcomes (Figure 2). In Years 1 and 2, five cornerstones are laid to prepare students for the required fundamental skills and knowledge to work in the hospitality industry. In Year 2, students can apply their skills and knowledge to real-world scenario through their 8-month IWSP on the job training. In Year 3, students are required to work a capstone project to solve a problem, or to improve process and guest experience that is related to their IWSP experiences.
The design of IWSP aims to enhance our students to integrate their learned knowledge with practice through our curriculum before starting their IWSP. Three assignments (What, How and Why) are designed for students to reflect on their learning and practical experience in the workplace. Applied learning in tertiary educational institutions often encompass an internship programme in the curriculum. It acts as a form of experiential learning, exposing them to the hotel industry and allowing them to gain hands-on experiences, instead of being confined to theoretical boundaries (Rahman, Zahari & Nik, 2015).
These assignments give students the opportunity to utilize their cognitive thinking to identify current issues from their workplace. Students are required to brainstorm and come up with innovative and strategic ideas that would potentially solve the problems or improve the operational process. The academic supervisors guide students through a series of progressive and structured questions that are designed to bring them through operations, management, and business levels of thinking in real-life business environments. As a result, students are also required to identify innovative capstone (the final year project) topics at the workplace that they can bring back to work on after IWSP.
Figure 2. HB Curriculum Structure – IWSP is the Key Feature of Practical Learning
Developing Students
Given the high expectations of students to perform well in the workplace, SIT prepares students for IWSP through a series of modules and workshops. In the curriculum, there is a "Career & Professional Development" module prior to IWSP application, to prepare students in resume writing, interview skills and communication skills. There are also preparatory sessions such as Networking Workshop to prepare students before the Industry Networking Event for students to meet with the companies. A key emphasis is to have a growth mindset towards IWSP, so that students approach it with a longer-term employee mindset versus a short-term internship mindset.
During IWSP, SIT academic supervisors will coach and mentor students to provide regular guidance in achieving the IWSP learning objectives. This is an important part of the learning to get students to reflect on and learn from their IWSP experience, building their adaptability and resilience. Students gain authentic work experience and develop workplace competencies. They also gain clarity of their career interest for full-time job search and employment.
Partnering with Industry
For every company participating in IWSP, SIT will meet with the company to share and align understanding of the learning outcomes and expectations of company in developing the students. This will provide an opportunity for companies to understand SIT's applied learning pedagogy, and also for SIT to understand the company's needs and how IWSP can contribute to building their talent pipeline. Each student would also be assigned a dedicated work supervisor to mentor the student at the workplace. The work supervisor is required to provide assessment of the student's performance, which will contribute to the student's assessment for IWSP, which is a credit-bearing module. During IWSP, the SIT academic supervisor will also engage the work supervisor to discuss the student's progress. The feedback is important to monitor progress and provide feedback for improvement. The extended period of IWSP provides the opportunity for companies to evaluate the suitability of students as potential employees.
IWSP Results
The two main stakeholders of the HB IWSP model are students and industry partners. It is crucial to ensure learning outcomes are fulfilled through practical learning. There are six key performance criteria of the IWSP model as summarized in Table 1: 1) Learning and Work Integration, 2) Professionalism, 3) Communication, 4) Problem Solving and Decision Making, 5) Teamwork, and 6) Adaptability.
Based on the student performance in Year 2018 and 2019, the results showed that the average rating by industry partners (direct work supervisors) was mainly between "4" to "5" based on the 5-point scale, meaning between "Good" and "Excellent." Only a few outliers were rated at "2" and "3", ranging between "Average" and "Below Average" as shown in Figure 3. In general, our industry partners recognized our students' knowledge, attitude, and capability. To support this statement, some qualitative findings have been collected (Table 2). In general, both industry partners and students commented IWSP is an effective and practical learning method for engaging students to apply what they have learnt in class to the real-world scenarios.
Table 1: Performance Criteria and Descriptor of the IWSP Model
| | |
| --- | --- |
| Criteria | Descriptor |
| 1. Learning & Work Integration | Learns new materials quickly and applies learning from university and workplace to work situations. |
| 2. Professionalism | Exhibits self-confidence; punctual, proactive and motivated, takes ownership of work and learning and produces quality work; receptive to feedback from peers and supervisors. |
| 3. Communication | Speaks / writes clearly and effectively and listens to differing views and puts across opinions respectfully. |
| 4. Problem Solving & Decision Making | Evaluates situations and data, suggests options to resolve issues and demonstrates sound judgement and takes ownership of decisions made. |
| 5. Teamwork | Works effectively in teams and contributes positively to achieve common goals. |
| 6. Adaptability | Adopts to workplace culture and environment and remains effective through change and ambiguity' works effectively with people from diverse backgrounds. |
Figure 3: Employers Assessment Results on HB IWSP Students (Year 2018 & 2019)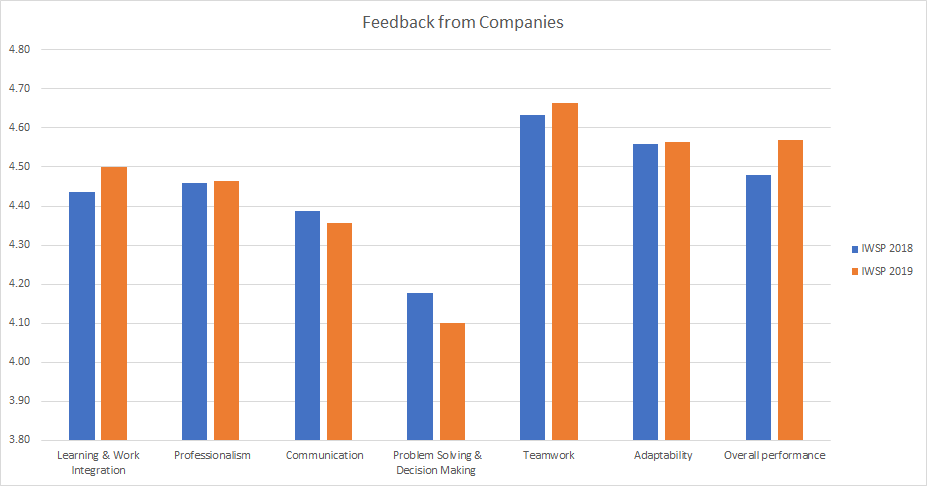 Table 2: Employers' Comments on HB IWSP Students (Year 2018 & 2019)
HS: Hotel Student & MS: MICE Student
Industry Specialisations
Work Supervisor

(Positive Comments)

Work Supervisor

(Areas of Improvement)

Hotel & Integrated Resort
HS1 has a strong technical skill especially Opera (PMS). The foundation of theoretical and practical knowledge helps HS1 to adapt quickly and apply in her daily tasks.
SIT should manage students' expectations prior IWSP. HS5 can further improve her communication skills, EQ self-management and awareness of others.
HS2 showed great professionalism at work. Her best skills would be her excellent communication skills internally as well as with guests.
HS6 should continue to enhance customer relationship management (CRM) skills & business writing skills.
Adaptability to any situations that we have given to HS3. She was responsible and definitely is a team player.
HS7 needs to empower herself more to make decision. She needs to forget that she is just an intern and she should make decisions for herself and her guests.
HS4 has adapted well to our fast-paced environment. She delivered all work tasks promptly and with good quality.
HS8 can discover and inject even more creativity when tackling complicated problems
MICE
MS1 was very efficient to complete all given tasks with excellent results, especially when asked to do research.
MS5 should gain more confidence in responding to clients directly. I do not see the 'extra mile', and only maintains expectations instead of exceeding them.
MS2 was professional when dealing with clients
MS6 can improve her skills in conducting research and creative thinking.
MS3 was well organized and a fast learner, she expressed interest in learning new things. Taking ownership in the projects she was handling
MS7 can improve her multitasking skills and manage deadline better, as well as corporate writing.
MS4 was good at analyze and troubleshoot without supervision or minimal supervision was needed.
MS8 should pay more attention to details and be a little more confident when she has to challenge or question the issue deeper.
Key Challenges
A key challenge is shaping the mindset of students, industry partners (work supervisors) and faculty members. IWSP is a work attachment, although the approach differs from a typical internship, requiring a mindset change from all parties involved. Industry partners need to see the students as potential future employees, and hence be willing to invest time and effort in training them. Students need to move away from the notion of just "helping out" versus contributing as a full-time employee and building a professional network within the company as it may be their future employer.
In general, academic staff focus more on teaching and conducting research. However, since the hospitality industry dynamic is always evolving, academic staff should play a proactive role in understanding the changing business environment, trends, and new developments. Faculty staff should find ways to bridge gaps between theory and practice, and between students and industry partners.
There is a growing trend that more applicants with non-relevant diplomas are interested in the HB programme. For students without any prior knowledge and work experience in the hospitality industry, they are required to take an Industry Attachment (IA) in year 1. IA provides students with opportunities to gain practical experience in operations. Industry partners play a vital role to give a good first impression on the hospitality industry and create memorable and meaningful practical learning to attract talents and potential work force in the future. However, in reality, it is not the case.
Crisis is unforeseeable, unpredictable, and unavoidable. The recent COVID-19 pandemic highlights how such a crisis can severely impact available IWSP positions. Such external factors include economic recession and pandemic-led disruptions. In such situations, the risk of not getting sufficient IWSP positions for all students is a genuine concern. In particular, IWSP for Hospitality Business was severely affected due to the travel restrictions. Companies' businesses are affected and are unable to provide work attachments. Given that industry environment is key to the applied learning pedagogy, a key challenge is to provide alternative arrangements that meet the learning outcomes.
Furthermore, some MICE companies aim to sustain their business during crisis, they offer hybrid events which means to conduct a "face-to-face" in-person event and with a "virtual" online platform. For this new initiative, students may have limited knowledge and skills in running hybrid events.
Recommendations
In fact, based on the Graduate Employment Survey conducted in 2019, it showed that 93.4% of our graduates gained employment within six months of completing their degrees. Employers found our graduates are "work-ready" and with relevant skills are needed. Some graduates secured job offers even before their graduation as they received priority offers from the IWSP companies where they interned. However, as a young university, the model still has room to grow and has areas for improvement, in order to better prepare students prior to practical training in the real-world scenario. Some practical recommendations are discussed in this section.
Bridging gaps among stakeholders' expectations: For students, practical learning experience in the hospitality education is crucial. Every individual holds different views and expectations based on his or her characteristic, perception, knowledge, experience, need and want. Therefore, dissatisfaction is inevitable. One of the key objectives is to find ways to narrow or close the gap of stakeholders' expectation and perceived practical learning experience. Academic supervisors are encouraged to act as a 'bridge' that connects students with industry partners. Academic supervisor should meet the work supervisor and students on a regular basis, to ensure the alignment of learning outcomes and objectives are met. Furthermore, work supervisors should meet IWSP students and give face-to-face feedback and advice on the learning progress and actual performance in a timely manner.
Improving Practical Experience and Learning Journey: Reviewing the Career and Professional Development (CPD) module on a yearly basis to ensure soft skills are relevant to the market needs based on the feedback from work supervisors is crucial. More recently, it is getting common to conduct meetings and interviews via Zoom or other online platforms. Students were not well equipped with the appropriate interview skills yet. The CPD module should cover online and on camera presentation skills, communications skills, grooming and etiquette.
Strengthening Knowledge in Technology: The contents of Information Systems Management (ISM) and Hospitality Interactive Marketing (HIM) modules can be reviewed carefully and regularly. It is crucial to make necessary changes to meet the constantly-changing needs of the industry. These two modules should enhance students' knowledge in information technology, digital marketing, and digital literacy. For example, digital literacy encompasses a wide range of "new" technologies, including being able to find the right tools and skills to consume information, and to create content for others via different online platforms. Some companies have started implementing "new" technology to improve customers' experience and satisfaction, such as robots, contactless check-in, and interactive social media marketing campaigns.
Exploring a Hybrid Internship Opportunity: The hospitality industry is a global based business and service sector. Students need to be given the opportunity to look for overseas IWSP opportunities. A hybrid IWSP does that by providing a '3+5' model, whereby students spend three months in Singapore and five months overseas with the same organization.
Building Industry Connection: Faculty should actively seek industry project ideas as early as possible so that there are good innovation projects for our students to work on. Furthermore, academic staff should proactively build relationship with new players to explore different practical learning experience for IWSP students. Industry partners can provide real and authentic learning environment for students to apply their knowledge in solving real-world issues, this is an excellent applied learning platform.
Acquiring and Developing Local Talents: SIT aims to develop and nurture students to become young leaders in the hospitality industry, through "talent development" in the local market. Nurturing talents is required to support the evolving hospitality industry. It is important to ensure that the positions are filled, preferably with candidates of hospitality backgrounds through talent management (Neuhofer, Buhalis & Ladkin, 2013). During the three-year study programme, students can develop strong operational skills (know-how) anchored in solid theoretical knowledge (know-why). Working closely with some strategic partners, enables companies to create plans to develop local talents. Organisations need not spend additional resources on having to train a new associate from scratch (Dario & Snezana, 2017).
Conclusion
Hospitality education is evolving globally and specifically in Singapore. Because hospitality education in Singapore is still considered a young programme in Asia, it is important to identify areas for improvement. Educators should proactively gain knowledge and understanding of the market needs and demands, in order to keep up a relevant curriculum design.
Collecting input and feedback from industry partners can help to enhance the practical learning experience and students' development plan. The IWSP model facilitates opportunities for students to gain higher, deeper and comprehensive levels of learning in difference sectors or departments within the designated organization. Some organizations even offer some supervisory or management tasks for students to develop their leadership skills. Currently, different programmes and strategies can be identified by hotels to entice hospitality students to join the various hotel organisations – internship to full-time job conversions and management trainee programmes (Elhoushy, 2014).
References
Chen, Y., Dellea, D., & Bianchi, G. (2019). Knowledge Creation and Research Production in Swiss Hotel Schools: A Case Study of the Ecole Hôtelière de Lausanne. Journal of Hospitality & Tourism Education, 31(1), 10-22.
Dario, S., & Snezana, S. (2017, June 19). The Role and Importance of Internship Programs as Part of Formal Education: Students' Perceptions – The Case of College of Tourism. College of Tourism, Belgrade. Retrieved from https://scindeks-clanci.ceon.rs/data/pdf/0354-3099/2017/0354-30991719051S.pdf
Deloitte. (2018). Travel and Hospitality Industry Outlook. Retrieved from https://www2.deloitte.com/content/dam/Deloitte/us/Documents/consumer-business/us-cb-2018-travel-hospitality-industry-outlook.pdf
Downing, J. J. (2017). Design Principles for Applied Learning: Bringing Theory and practice together in an online VET teacher-education degree. International Journal of Training Research, 15(1), 85-102.
Lefever, M. M., & Withiam, G. (1998). Curriculum Review How Industry Views. Hospitality Education. Cornell Hotel and Restaurant Administration Quarterly, 39(4), 70-78.
Elhoushy, S. (2014). Hospitality Students' Perceptions towards Working in Hotels: A Case Study of the Faculty of Tourism and Hotels in Alexandria University. Retrieved from https://www.researchgate.net/publication/307593920_Hospitality_Students'_Perceptions_towards_Working_in_Hotels_a_case_study_of_the_faculty_of_tourism_and_hotels_in_Alexandria_University
Lim, S. M., Foo, Y.L., Loh, H. T., & Deng, X. (2019). Applied Learning in Higher Education: Perspective, Pedagogy, and Practice. Santa Ros, CA, USA: Informing Science Press.
Montgomery, T. & Spragg, T. (2017). Hospitality Industry Labor Shortage. Retrieved from https://osucascades.edu/sites/osucascades.edu/files/research/labor_shortage_tmm.pdf
Neuhofer, B., Buhalis, D., & Ladkin, A. (2013). High Tech for High Touch Experiences: A Case Study from the Hospitality Industry. Retrieved from https://www.researchgate.net/publication/236214173_High_Tech_for_High_Touch_Experiences_A_Case_Study_From_the_Hospitality_Industry
Rahman, B., A., Zahari, H., & Nik, A., N., M. (2015, January). Hospitality Internships: An Employment Advantage or Perilous Experience. Retrieved from https://www.researchgate.net/publication/280722933_Hospitality_Internships_An_Employment
Victorian Curriculum and Assessment Authority. (2006). Applied learning in VCAL, Retrieved from http://www.vcaa.vic.edu.au/curriculum/vcal/Pages/AppliedLearninginVCAL.aspx