Lesson 9 description
Is this love?
Carolina Tavares de Carvalho
Is this love?
The lesson Is this love? was designed for a A2/B1 level English language course. The aim of this lesson is to help learners understand the context(s) where the word 'love' is used and how this word is expressed and represented in everyday life considering data from authentic language use.
This lesson is available in a hands-on format, but the teacher may adapt it for a hands-off format if needed. The difference between these two formats is that in the first one learners are required to access BNClab to search for the linguistic data necessary to carry out the activities. The second format does not require learners to access this tool as the linguistic data has been previously selected by the author, and is available to download in the lesson itself.
Regarding BNClab, it is expected that students use the search options Usage and select the items gender, age, social class, region and corpus, as shown in the image below.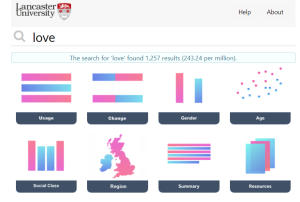 In this lesson, we will also use TED Ed, YouTube, VersaText and Lyrics Training. Please watch Pressbooks Video 3 (YouTube, 13m51s) below to learn more about BNClab, YouTube, VersaText and Lyrics Training for this lesson.
---