170

Letter from Hera Oktadiana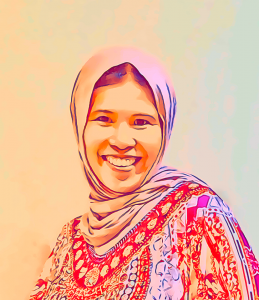 Dear tourism women scholars and future leaders,
I am very honored to be invited to contribute to the Women's Voices in Tourism book. I began my academic journey in 2000, starting as a program coordinator in Trisakti School of Tourism Jakarta, then advancing to consultant for a consulting firm in hotel training, until appointed head of the hotel program in Bunda Mulia Hospitality and Tourism Institute, Deputy Manager of Trisakti's International Program in Hotel and Tourism Management, Head of Hotel Management BINUS (Bina Nusantara) University, and Head of School Hospitality and Tourism Management BINUS International.
How I ended up learning tourism and hospitality
When I was in high school, I did not have any intention to have a career in tourism and hospitality. I wanted to become an architect or an interior designer. I like drawing and design. I had won various drawing and painting competitions. But upon returning to my home country Indonesia from the one-year AFS Intercultural/Student Exchange Program (originally American Field Service) in the United States (1992-1993), the university that I was interested in had closed its admission. My father recommended me to study hotel management in one of the top tourism institutions in Indonesia, Trisakti School of Tourism. He said I could apply to an architecture course in the following year if I did not like the hospitality course. To my surprise, I enjoyed it. I received a scholarship from my university and got selected to do an internship as well as studying at Leeuwarden Hotel Management School (now Stenden University) the Netherlands for one year (1996-1997). Later in 2004, I obtained another scholarship to study MBA in Multimedia University Malaysia and Master of Management in Bunda Mulia University where I worked as the head of hotel division.
Travel and hotel realm is not new to me. I have been travelling since I was little. My parents took me to various tourism destinations around Indonesia. We often stayed in the four- and five-star hotels. My father was a hotelier. He worked in a national-chain hotel group which also managed the first hotel in Indonesia. He obtained a diploma in hotel management from Glion Institute of Higher Education Switzerland in the 1970s. From him I learnt about hospitality and tourism.
Becoming the head of tourism and hospitality departments
Before I decided to have a career in academia, I worked in Borobudur Intercontinental Hotel Jakarta, a coffee company in Jakarta, and an embassy in Tokyo, Japan. During my tenure in Indonesian universities, I had established three hospitality and tourism programs and assisted my alma mater Trisakti in the opening of hotel international program with the International Management Institute (IMI) Switzerland.
Becoming the head of department at 29 years of age was quite challenging, especially as I had to start from scratch – from planning to implementing the program. I had to deal with many issues. They included preparing proposal for the new program opening to the Directorate General of Higher Education, developing curriculum, recruiting lecturers and students, designing students' uniforms, establishing partnerships with the industry, associations, and other educational institutions nationally and internationally, and building practical laboratories such as kitchen, restaurant, and mock-up hotel rooms. I gained a great deal of management experiences for 10 years. Good communication skills and emotional intelligence are very crucial in leadership. In a high-power distance country such as Indonesia, seniority and status play a role in society. Therefore, I practiced open communication channel with students, lecturers, and colleagues to ease the gap. I liked to encourage my students and academic staff to come up with ideas and solve problems.
Being a PhD student
In 2013, I decided to step down from the managerial duties and studied a PhD at the School of Hotel and Tourism Management, the Hong Kong Polytechnic University. I received International Postgraduate Scholarship and Research Studentship from the Hong Kong PolyU. Some of my friends often made a joke to me. "Hera, how do you feel to be a student? From somebody (with power) to nobody?". I replied, "This is like a paradise for me".  My study was like a good break from the managerial routines. I enjoyed every moment of my PhD journey although things did not always go well. I hit rock bottom in my personal life, but I managed to survive. I raised my baby daughter by myself when I was studying. It was a tough time. The care from my family, friends, and supervisor kept me strong. My goal to earn a PhD degree (as I promised to my father before he passed away), also motivated me to keep going.
My PhD study was really an eye opener to the research and publication world. My supervisor Prof Kaye Chon was remarkable. He was so instrumental in my learning experiences. He gave me opportunity to expand my network. He assigned me to assist the secretariat of the International Academy for the Study of Tourism. It was memorable moments to meet many prominent world-class tourism professors in the Academy's conference in Greece in 2015. The trip to Greece was even more special because I had a chance to chat with Philip Pearce, the foundation professor in tourism of Australia, who later became my beloved husband. I also received opportunities to become the Chairperson of PhD students' group and a students' representative.
Another phase in my life
Upon completion of my PhD degree in 2016, I went to Australia as a visiting scholar. Later I was appointed as an adjunct senior lecturer and then an adjunct associate professor. I had a great academic and non-academic life with my late husband Philip. Philip was not just a wonderful husband, he was also my best friend, mentor, and confidant. We had a number of publications together. We also talked in several seminars. His sudden death on 11th August 2020 was a big shock to me. My half soul had gone. I was devastated. It took me more than a year to cope with the loss. I was admitted to the hospital's emergency department several times, followed with regular visits to our general practitioner (medical doctor), and then attending grieving and psychological counselling. I lost a lot of weight. I understand that everybody will eventually leave the world, but it was hard to lose Philip so suddenly. I still feel some grief, especially on special occasions, but it is lessened as I learn to cope with the situation. I know Philip wanted me to be happy and move on with life.
In coping with the grief, supports from family and friends are vital. I am very lucky to have family and friends who are always ready to help, although many of them are living overseas. Another way to cope with the loss is to involve in community events and do voluntary work. I always enjoyed participating in social/community service organisations' activities. Currently I am the president of Indonesian community and women leader of Islamic Society in Townsville, Queensland, Australia. Becoming a volunteer does not only boost my health and well-being, but I also make new friends and learn new skills. I feel happy when I can help other people. You do not need to search for happiness as you can find it within yourself. I am grateful and fortunate to play multiple roles in my life: as a mum, as a wife, as an academic, and as a community leader.
Finally, I would like to say; "Cherish your life, be grateful, be kind, maintain a good work-life balance, and appreciate your family, friends and society."
Best wishes and
"Be happy to get you healthy!".
Hera Oktadiana
James Cook University, Australia & Trisakti School of Tourism, Indonesia