201

Letter from Leanne White
At the end of 2020 I retired from the academic world. It was time to hang up the teaching boots.
I had an association with Victoria University (VU) and its former institutions for almost 40 years. My father also worked at Footscray Technical School in the 1940s. I was an undergraduate student and was presented the inaugural E. A. Mollard Student of the Year Award in the early 1980s. Later that decade, I worked at Western Institute in both a public relations and teaching capacity. l was a postgraduate student and casual lecturer in the 1990s. In the early 2000s, I returned to VU as a full-time academic.
During my time at VU, I taught on almost every campus and a few overseas ones as well. Overseas teaching opportunities included Hong Kong, Malaysia, Myanmar, Bangladesh and China. Overseas conferences in Scotland, New Zealand, Taiwan, Hong Kong, Singapore and Turkey were also a highlight.
Like many academics with a long history of service, I had the privilege of working with some wonderful colleagues and incredible students from undergraduate level to doctoral candidates. The research journey was highly rewarding too. As I outlined in further detail in the chapter, I have edited or co-edited six research books and published more than 60 book chapters and academic journal articles.
Over the decades of lecturing, I taught with chalk, felt pen, an overhead projector, a data projector, a document camera, a computer and via Zoom. On my final day of work, I handed back the university keys just metres away from where I had enrolled as an undergraduate student almost 40 years prior! It was a true moment of coming full circle.
Working and studying at VU was a long and relatively enjoyable ride. My quieter life now involves more travel and more time to smell the roses. Other assorted workplaces over the last four decades have included: Monash University (part-time in the early 1990s and full-time from 1996 until 2004), Deakin University (briefly in the 1990s), RMIT University (part-time in the early 1990s), Melbourne College of Textiles (very briefly in the 1990s), the City of Footscray (briefly in the late 1980s) and my very first full-time teaching stint – Bacchus Marsh High School (briefly in the 1980s).
A special thanks to my husband for being an integral part of much of the long journey. I bent his ear far too regularly. However, his sage advice was always absolutely invaluable.
As my chapter was quite formal and detailed, I will keep this letter brief. What follows are my top ten tips.
Develop a Strong Brand
Market yourself in a consistent manner in all settings. Image is everything. Select a photograph that you like and use it in all forms of online presence. I have used this photograph over the last decade (refer Figure 1). Consistency is the key if you want people to remember you. Ensure that you have some key research themes as part of your personal brand.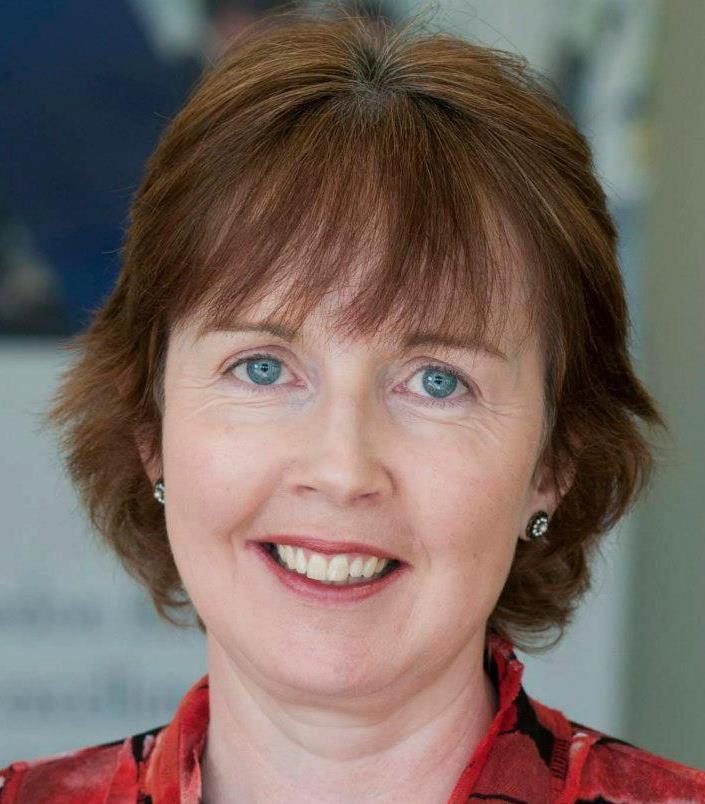 Upload Publications
Ensure that interested researchers can easily access your publications. While many publications might be available through the journal or book, make sure you upload your research output to a popular website such as Academia.edu (refer Figure 2). Researchers will not be able to cite you if they cannot find your work!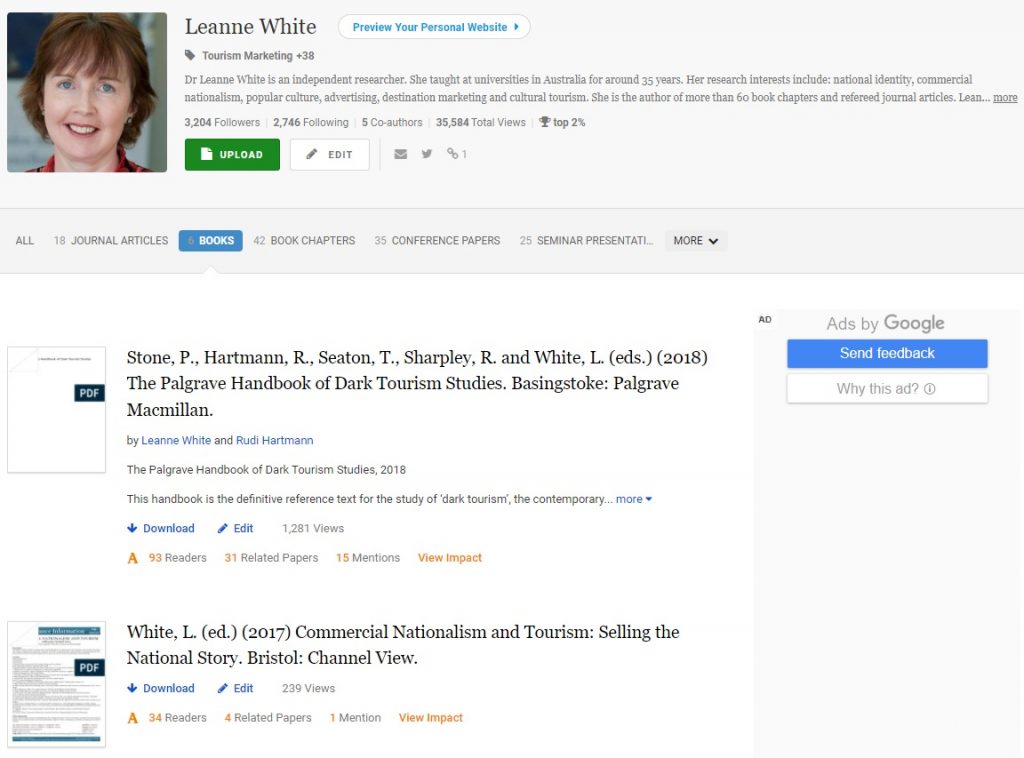 Monitor Citations
Make sure you set up a Google Scholar account (refer Figure 3). Monitor it every few months and ensure that it is accurate and kept up to date. This is a great way for others to see your citations and provides some indication of how you are progressing in relation to your peers.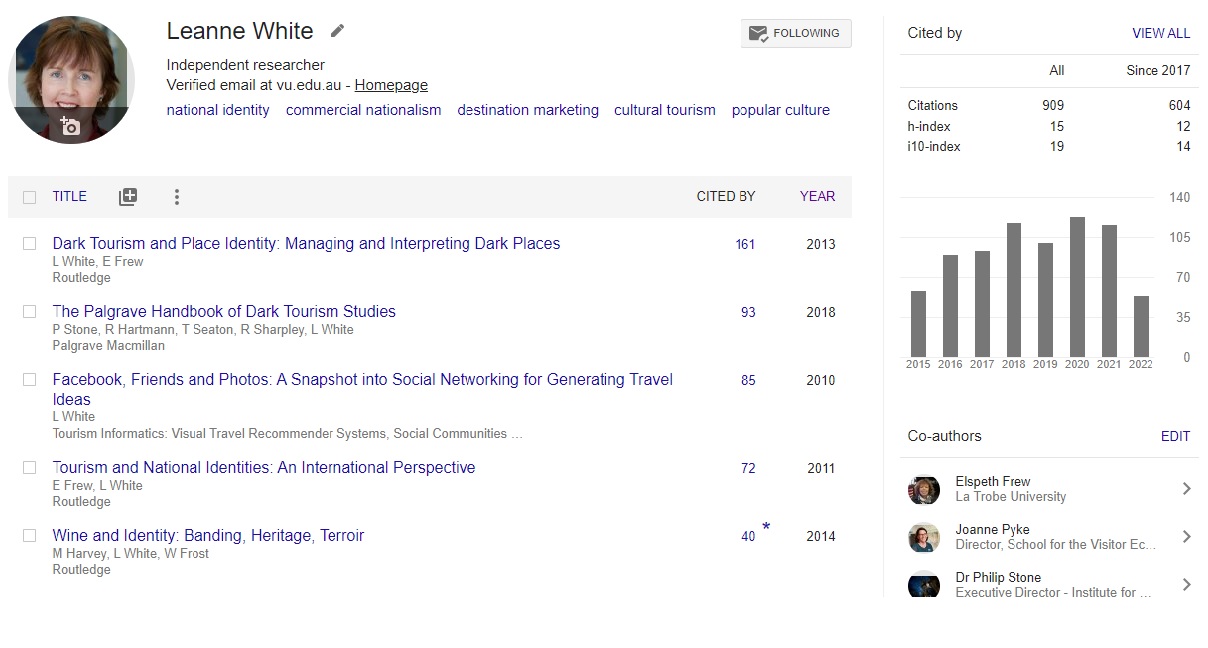 Find Great Mentors
It is important to find mentors who will help motivate and guide you on the long journey. I remain in touch with my very first academic mentor – Professor John Sinclair (refer Figure 4). Find at least one good mentor and stay in touch with them. The relationship will most likely last a lifetime.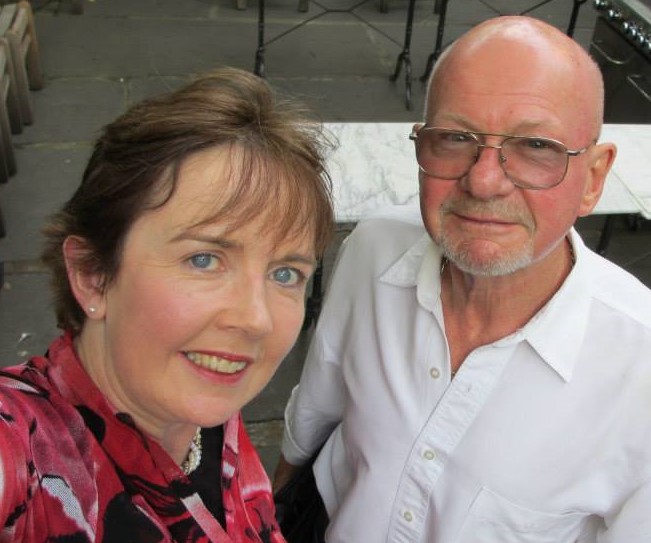 Undertake Professional Development
The importance of regular professional development cannot be underestimated. Many courses are offered by universities and other organisations. I have participated in numerous professional development programs and they rarely disappoint. One program was a Women in Leadership course which ran over the course of a year.
Value Colleagues
Become part of a group of like-minded colleagues – either in your organisation or more broadly. A few years ago, I became part of a Melbourne-based group of female academics in tourism, hospitality, events and marketing (refer Figure 5). About a dozen of us get together a couple of times a year. While the topics remain largely general and informal, we occasionally discuss research-related topics and form deeper and stronger collaborations.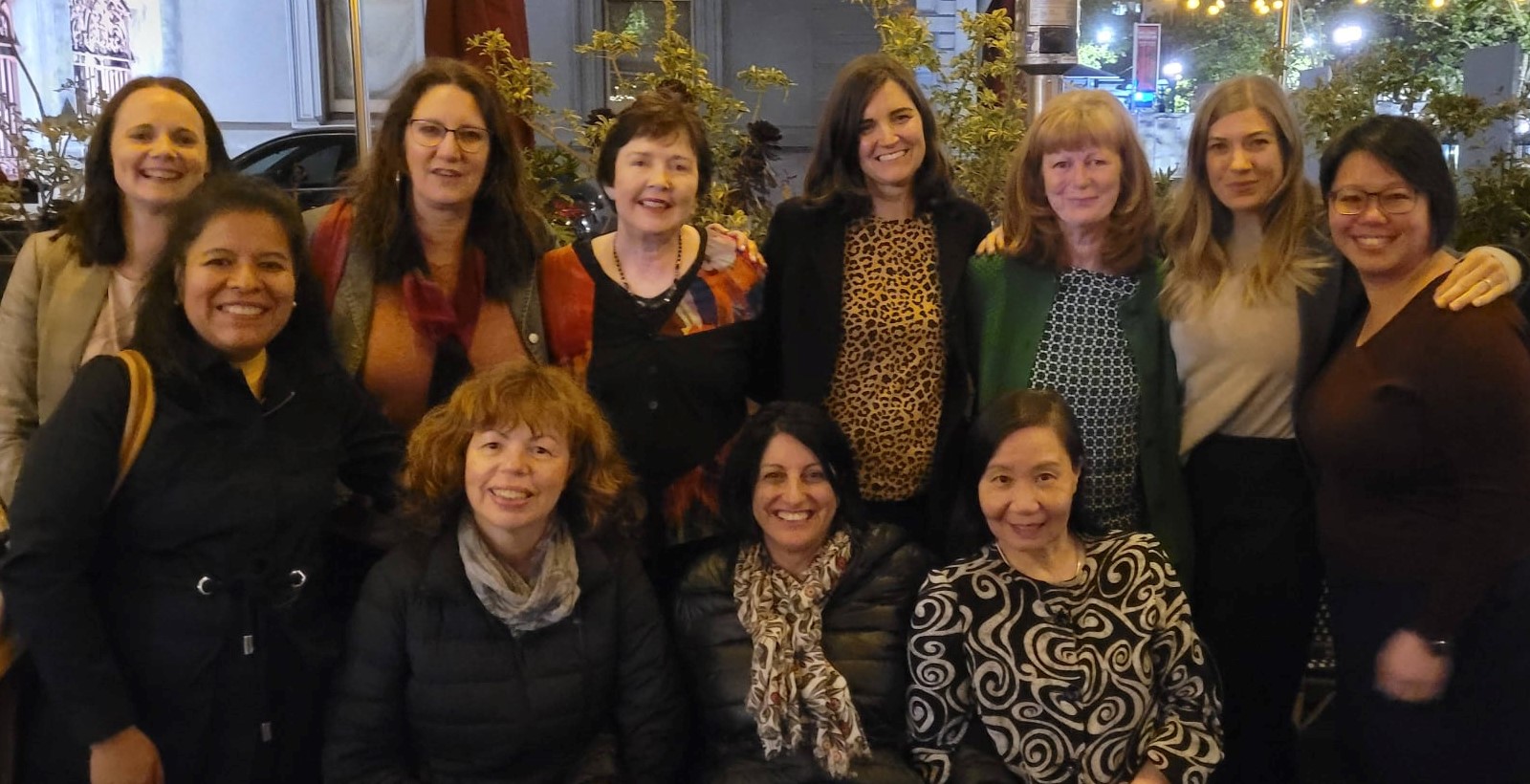 Mentor Others
Mentor and assist junior colleagues. While we can benefit by having a mentor, we can equally learn a great deal when we mentor others. The most obvious people to mentor are our postgraduate research thesis students. The mentoring relationship can often involve research collaboration as it did in the case with former doctoral student Dr Ajay Khatter (refer Figure 6). However, mentoring junior colleagues at a university is also something that can bring great rewards to both parties.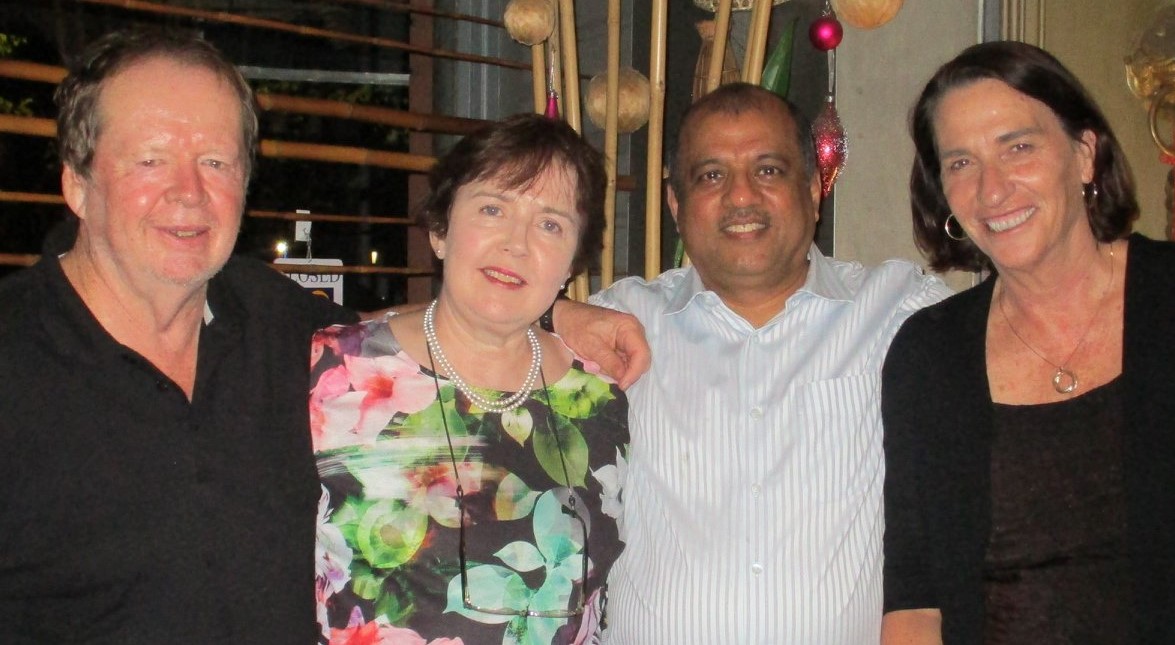 Cherish Students
Make strong connections with all the students you teach. They are an important part of your life just as you are in their life. When I taught postgraduate students, the presenters would bring along food to share with their fellow students. At the end of a semester, I would always throw a party for the class (refer Figure 7). Many students commented that other lecturers never did this. These parties were easy enough to organise and meant so much to so many. A great way to conclude an intense semester of teaching and learning.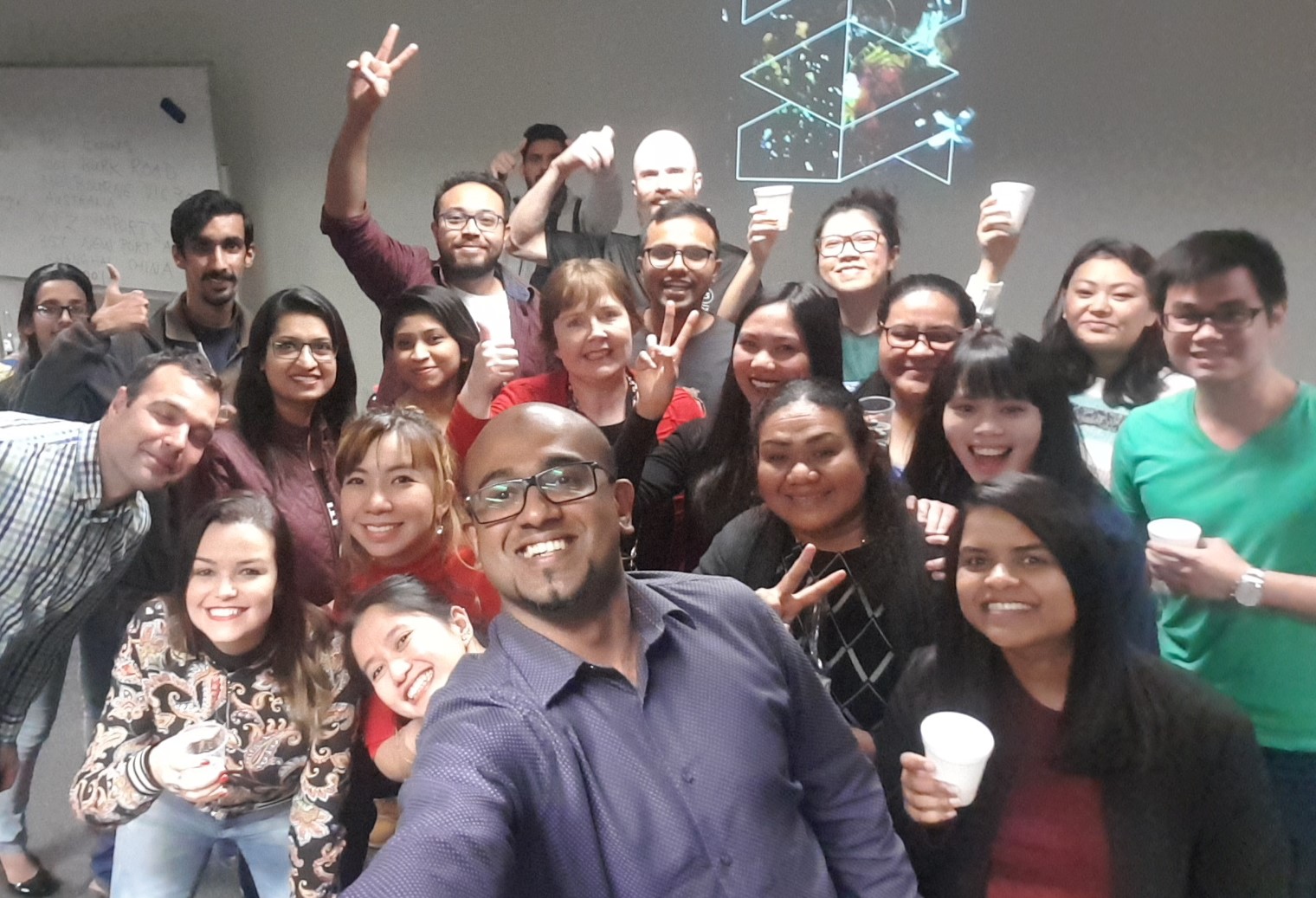 Teach Overseas
If the opportunity arises, teach at overseas universities or present conference papers. As mentioned earlier, I have had the chance to teach in many countries and have thoroughly enjoyed the experience (refer Figure 8). I always take small gifts such as pens and other university branded products for the students and my teaching colleagues. Being an ambassador for your country is a privilege. I have been able to travel and work in countries that I otherwise might not have visited.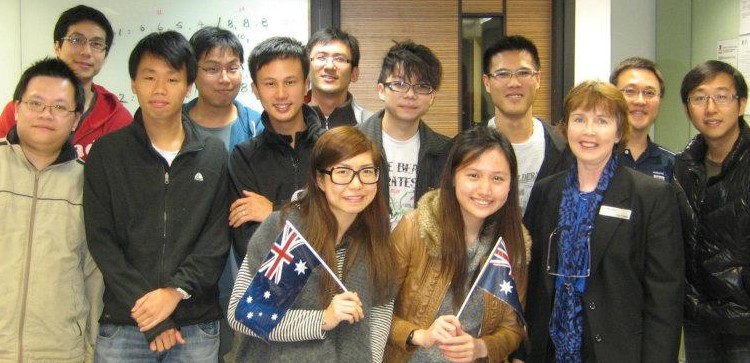 Never Stop Learning!
The job of an academic or researcher is one where you will never stop learning. While it's not the job it once was, there are very few jobs that provide the freedom and fulfillment of a career where you grow and learn in conjunction with others every day. Enjoy the ride!
Leanne White
Independent researcher, Australia