71

UNDERSTANDING MUSLIM TOURISTS: WHAT, WHY AND HOW DO THEY TRAVEL? – Contributions by Hera Oktadiana
When I studied my PhD at the School of Hotel and Tourism Management of the Hong Kong Polytechnic University, my research focus was on hospitality and tourism education. I had several publications regarding that topic. I am still enthusiastic about hospitality and tourism education studies. Yet, my research interest has cultivated into tourist behaviour, particularly that of Muslim tourists. In this chapter, I would like to discuss Muslim tourists.
Many evidence and studies suggest that Muslim tourists have become an important global market (Burton, 2021; Papastathopoulos, Kaminakis, & Mertzanis, 2020). Despite the impact of the COVID-19 pandemic on the tourism sector, the Muslim travel market is expected to regain in 2023 up to 80% of the 2019 levels (Mastercard-CrescentRating, 2021). The increased number of Muslim tourists have interested many destinations – whether Islamic or non-Islamic destinations (Burton, 2021).
My first article on Muslim tourists was published in 2016 in Tourism Management Perspectives, titled "Muslim travellers' needs: What don't we know?". Philip Pearce (my late husband) and Professor Kaye Chon (my PhD supervisor) co-authored the paper. The study was based on my own experiences as a Muslim travelling and living in various countries. I would like to give insights on the needs of Muslim tourists when taking a trip or holiday beyond the core needs and core services (i.e. Halal food, Halal compliant accommodation, prayer facilities). Such facets are critical for Muslim tourists. Nevertheless, there are other important factors that need to be considered. The Global Muslim Travel Index model indicated four key criteria – services, environment, communications, and access – to enable destinations to attract Muslim travellers (Mastercard-CrescentRating, 2021). In this paper, we catalogued Muslim tourists' needs using the Coordinated Management of Meaning (CMM) theory against CMM's five elements. They include culture, verbal and non-verbal behaviour, episodes, life scripting, and relationship.
The study by Oktadiana, Pearce, and Chon (2016) revealed that episodes (e.g. Halal food, no-alcohol consumption, Halal hotels or Muslim friendly accommodation, Halal tours, Muslim friendly airports, prayer facilities) were commonly discussed in various medias including academic papers and tourism websites. Issues of culture, verbal and non-verbal behaviour, relationships, and life-scripting were relatively overlooked in both the academic and the wider tourism literature. Understanding the lifestyle, customs, and traditions of the Muslims at a Muslim destination can be valuable for the visitors from non-Muslim countries as well as those from Muslim countries, so they can be more culturally mindful. It is to note that Muslims' social culture is diverse. For example, Muslims from the Southeast Asia region can have different habits and customs to those from Middle East.
The next study on Muslim tourists, "Travel career patterns: The motivation of Indonesian and Malaysian Muslim tourists", was issued in Tourism, Culture & Communication in 2017, followed by a book chapter in an edited book on Asian cultures and contemporary tourism: Perspectives on Asian Tourism in 2018. This chapter is entitled "Motivated Muslims: Exploring travel career patterns among Indonesian tourists". In the former, I did my work together with Philip and my two friends; Arif Pusiran of University Sabah Malaysia and Manisha Agarwal of James Cook University Singapore. The idea behind the study was to seek the leisure travel motivational patterns of Muslim tourists in two Southeast Asia Muslim countries – Indonesia and Malaysia – and then to compare them with the Western tourists. Pearce's (2005) Travel Career Pattern theory was applied to examine the Muslim tourists' travel motivations.
Oktadiana, Pearce, Pusiran, and Agarwal (2017) discovered that nature and novelty were viewed essential for both Western tourists and the Muslim tourists to a different degree. The Western tourists considered novelty as the most important motivation to travel, followed by escape/relax and nature. Whereas, strengthening relationships was perceived as the top motivational factor in travelling for the Muslim tourists. The next critical facet was the nature factor which incorporated with cultural and social forces.  The other top factor for the Muslim tourists was novelty.
In 2020, I published three studies about Muslim tourists: 1) female millennial Muslims, 2) Muslims' queries when travelling, and 3) special dietary requirements. The article titled "Let's travel: Voices from the millennial female Muslim travellers" was awarded the Wiley's top cited article 2020-2021 in the International Journal of Tourism Research. In this study, Oktadiana, Pearce, and Li (2020) assessed the content of the millennial female Muslim tourists' travel blogs using Critical Media Discourse Analysis (CMDA). The study was aimed to "understand how travel is presented in the media by an influential set of younger female Muslims, to review the ways Muslim travel stories have evolved, and to explore the influence and purpose of the women's travel stories and their values in the broader social context" (Oktadiana et al, 2020, p. 1).
The textual analysis of CMDA showed the rise in the millennial female Muslims travelling. These female Muslims acted as actors and producers who shared their travelling experiences as Muslims through their travel blogs. Their stories began to emerge in 2013. They provided vital information about the needs of Muslims and what the Muslims need to know when travelling. The CMDA's contextual analysis indicated the evolutionary changes in the stories, starting with common travel information, to more specific needs and experiences such as travelling during the month of fasting or Ramadan. Moreover, within the social context, these female Muslims served as ambassadors of Islam and influencers to change people's perspectives toward Islam and Muslim stereotyping. They also played significant roles in influencing businesses concerning Halal products and services. Their stories correspond well with Rodrigo and Turnbull's (2019) study on the Muslim tourists' perceived value (social value, functional value, emotional value, conditional value, epistemic value, and Islamic value). Such value underpins the information seeking process of Muslim tourists prior to taking a trip.
Just like other tourists, Muslim travellers generally seek information regarding accommodation, food and beverage, transportation, destination safety and attractions, and itineraries and excursions. However, they also look for specific information such as Halal food, Halal restaurants, Muslim friendly hotels, travel distance to mosques and Halal restaurants, safety for Muslim women wearing hijab, solo travel, safety from discrimination and assaults, places for prayers, Muslim friendly destinations, Muslim friendly tours, and tours for solo travellers (Oktadiana, 2020).
The need for Halal food for Muslim tourists has been widely recognised. One morning, my late husband Philip (who converted to Islam) and I had a talk about religious dietary needs while having breakfast at the front yard of our house. When we travelled overseas, we often needed to ensure that the foods were Halal when eating out in restaurants. We had to ask the restaurant staff or look for the Halal certification. It was easy when we travelled to Muslim countries or Muslim-friendly destinations. Based on our conversation, we decided to write an article regarding restaurants' menus that inform religious beliefs, lifestyles, and allergies. The article is titled "Special dietary requirements: Restaurant sector responses across six tourist cities". We examined 60 restaurants in Bali, Singapore, Sydney, Paris, Dubai and Doha to represent Asia, Western, and Middle East regions. Analysis of the findings considered Shove, Pantzar, and Watson's (2012) social practice theory as exemplified in materiality (menu as tangible manifestation of food information and restaurant policy), perceived competence, and meaning (image/identity). The study revealed the necessity of tourism and hospitality businesses to understand the variety of the dietary restrictions phenomenon (i.e. lifestyle choice, religious belief, and allergy). Thus, these special needs can be met to satisfy tourists visiting a destination, which then led to the enhancement of a destination image (Oktadiana, Pearce, Mohammadi, 2020). I received an award from the Indonesia's Ministry of Research and Technology in 2020 for this paper as a high-quality research paper. I wish Philip could celebrate the achievement together with me. But I know that he would be very happy from way up there.
To conclude, there are still many factors beyond the basic core needs and services that need more attention to better understand Muslim tourists and their special faith-based needs. The fast growth of this emerging market requires the development of Muslim-friendly service touchpoints in the destinations that are interested in capturing this group of tourists. Figure 1 shows the "what, why and how about the Muslim tourists in travel" based on the studies presented in this chapter.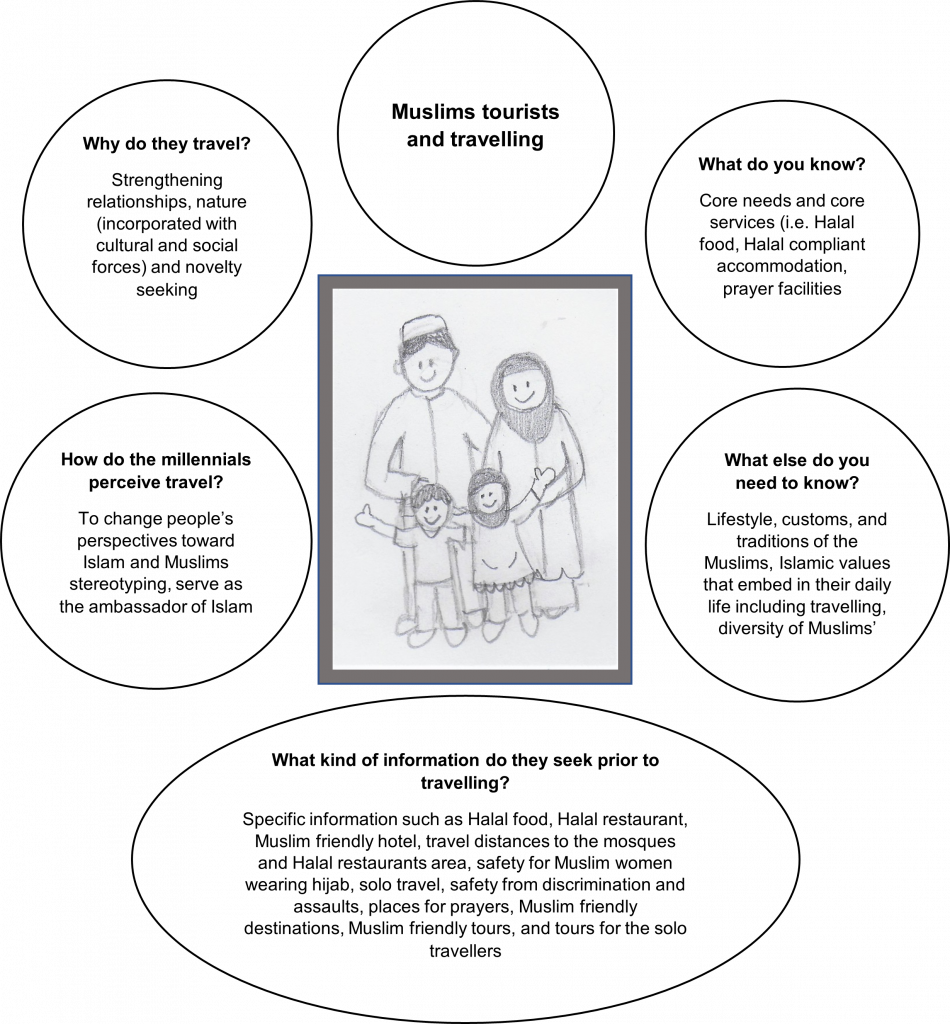 Written by Hera Oktadiana, James Cook University, Australia & Trisakti School of Tourism, Indonesia
Read Hera's letter to future generations of tourism researchers
References
Burton, K. (2021, Dec 8). The rise of halal tourism. Geographical. Retrieved from      https://geographical.co.uk/people/cultures/item/4232-the-rise-of-halal-tourism
Mastercard-CrescentRating. (2021). Global Musim Travel Index 2021. Singapore: CrescentRating Pte. Ltd. and Mastercard Asia/Pacific Pte Ltd.
Oktadiana, H. (2020). A panorama of Muslim tourists' queries: What do they want to know about travelling, in Pearce, P. L., & Correia, A. (Eds.). Tourism's new markets: Drivers, details and directions. Oxford: Goodfellow Publishers Limited.
Oktadiana, H., Pearce, P. L., & Chon, K. (2016). Muslim travellers' needs: What don't we know. Tourism Management Perspectives, 20. 124–130.
Oktadiana, H., Pearce, P. L., & Li, J. (2020). Let's travel: Voices from the millennial female Muslim travellers. International Journal of Tourism Research, 22(5), 1–13. https://doi.org/10.1002/jtr.235
Oktadiana, H., Pearce, P. L., & Mohammadi, Z. (2020). Special dietary requirements: Restaurant sector responses across six tourist cities. International Journal of Tourism Research, 22(5), 507-517. https://doi.org/10.1002/jtr.2352
Oktadiana, H., Pearce, P. L., Pusiran, A. K., & Agarwal, M. (2017). Travel career patterns: The motivations of Indonesian and Malaysian Muslim tourists. Tourism, Culture & Communication, 17, 231-248.
Papastathopoulos, A., Kaminakis, K., & Mertzanis, C.  (2020). What services do Muslim tourists want? Uncovering nonlinear relationships and unobserved heterogeneity. Tourism Management Perspectives, 35, 1007202. https://doi.org/10.1016/j.tmp.2020.100720.
Pearce, P. L. (2005). Tourist behaviour, themes and conceptual schemes. Bristol, UK: Channel View.
Rodrigo, P., & Turnbull, S. (2019). Halal holidays: How is value perceived by Muslim tourists? International Journal of Tourism Research, 21(5), 675–692.
Shove, E., Pantzar, M., & Watson, M. (2012). The dynamics of social practice: Everyday life and how it changes. London: Sage.