190

Letter from Madhuri Sawant
Dear women tourism researchers of the future,
Namaste!!
Let me start by sharing how I got into the exciting field of research and tourism.
Growing up, I loved listening to stories about my father's travels. He was a politician and Member of Indian Parliament, his line of work required him to be in number of countries for work throughout the 80s and the 90s. Whenever we had the time, we'd travel quite a bit with him, locally. Back then, I never thought I'd end up working in the field I do now.
In my early teens, I wanted to become a Medical Doctor like my elder sister who was a student of Doctor of Medicine at the time, and my idol.
We came from a conservative Indian political family, and by the time I turned 18, my parents urged me to go for arranged marriage; to which I obliged. My husband Rajesh was pursuing his Master's in Tourism Administration when we got married. Although he was supportive of me pursuing my wish of becoming a doctor, he suggested the alternative career of Tourism. I started my undergraduate studies in science and chose to do a Diploma in Tourism Studies I also actively studied foreign languages German & French, Environmental studies and got another PG Diploma in Business Management. I liked to keep my options open. Eventually, I decided to pursue Masters in Tourism Administration and also passed the National Eligibility Test for Assistant Professor, a mandatory exam to be able to work in academics in India and passed with flying colours. My score qualified me for a Research fellowship for PhD, but back then, I did not have any inclination towards it. I wanted to start a business in medical tourism in 2002 but because my children were very young, I chose to go for a PhD instead. My topic was on Management of Ecotourism. It was an exciting opportunity to travel to beaches, lakes, forest, hills and wild life sanctuaries, etc for data collection.
During my PhD (2008), I was selected as an Assistant Professor in the Department of Tourism Administration Dr Babasaheb Ambedkar Marathwada University Aurangabad, it is indeed an honour to work in my alma matter, this position changed my life. I wanted to teach and simultaneously do the best research I could but I was struggling to find a good mentor in India and the tourism research infrastructure was limited to miniscule institutes. We lacked many good research journals of international repute. It was frustrating to say the least. But slowly and steadily, due to the rise in social media from 2008, I could meet a good number of professors and researchers in tourism and made sure to get good guidance from them. I idolised some professors and keenly observed their work.
In 2010 I became a Research Supervisor for PhD, I made a vow to myself to improve and expand the scope of tourism research in my state, Maharashtra and established a Tourism Research and Consultancy Cell in my Department.
Fortunately, I could select highly dedicated scholars to work with me, especially motivated young women for a career in tourism research. Being with them for the majority of my time and experiencing their struggles with them, I realised that it is difficult for women to pursue research in India. There are huge social norms and responsibilities that they need to balance with their work but let me tell you, dear readers, Indian women are firm on being excellent at what they do while managing every obstacle that comes their way.
In 2018 an International Centre for Buddhist Tourism (ICBT) was established in my department, the Vice Chancellor nominated me as the Director of ICBT, I established linkages with several Universities in Buddhist countries and conducted joint Research Projects. I have travelled enough across the globe during the span of my career, I have met many good researchers, learnt a lot from them and I am still learning. I am proud to say that through these years I have worked with both government and non-government organisations on good posts and committees. In January 2022 I took charge as the Director of our Department of Tourism Administration, my own alma matter. I have been invited to many places in India and abroad to deliver lectures on my research and am also working as the Chief Editor of Euro Asia Tourism Studies Journal EATSJ. This is quite a wonderful journal and I am looking for more exciting ventures.
I believe there's a huge scope for women in tourism research. I urge you to join this amazing field. There are so many research areas that are yet to be explored and would benefit from women's perspective. I would advise young women researchers to be more proactive, seek good mentors and seek guidance whenever needed. There isn't a need to hurry to achieve targets, enjoy the process, develop new concepts. Many of us now have access to an ocean of information that was lacking just over a decade ago. I'd also advise young women researchers to focus on research that would directly be implemented by tourism stakeholders. Aside from being a researcher having many citations, you have the opportunity to be a researcher whose work, though simple, can be implemented by the strongest and the weakest sections of tourism stakeholders.
One of my biggest lessons was that it's okay not to be a superwoman tourism researcher. The word superwoman had enveloped a good phase of my life as a teacher and a researcher. Being tagged as that changed my perspective about myself and I desired to do every single thing I could for everyone and in the process forgot to focus on my own strengths and weaknesses. I felt unsatisfied, distracted, and even exhausted by research on some occasions. That's when I realised that we have to introspect ourselves, make right choices without sacrificing our lucidity in the process. Research work takes a lot of time, energy and effort. Researchers spend most of their time sitting and have more screen time than other professions. Coming from India, I would also like to suggest young researchers to practice yoga; especially breathing exercises; it has helped me with concentration and improve my power of memory. Research in tourism is exciting and there's many aspects of it that you can focus on, but never forget to put yourself first.
Breathe and believe in yourself
Be the next one to Inspire!
With lots of Love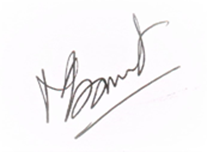 Madhuri Sawant
Dr Babasaheb Ambedkar Marathwada University, India